Working From Home is Becoming the Norm
With the Covid-19 outbreak, the government has urged the public to stay home and asked businesses to close offices, forcing companies to have employees to work from home. In mid-February, 46% of American businesses implemented remote-work policies, and as the virus surged more businesses sent employees home to work. Tech giant Google, JP Morgan, Facebook and Twitter are just a few of the companies with remote working policies. Other companies have followed in their footsteps. Google and Facebook have had so much success with this new arrangement that they are allowing staff to work from home until the end of 2020. Twitter has said if any of their employees want to continue to work from home "forever," then the company will make it happen.
For years, the mentality was that working from home meant an employee was stealing from the boss and being present face to face in the office was the best value. However, remote employees are proving they can be more productive, complete complex tasks, and manage their time more effectively at home. Under the current circumstances, as businesses begin to reopen, they are going to find it difficult to conduct "business as usual" and many will need to adapt and restructure the workplace if they are to stay open. The Coronavirus seems to be shifting the dynamics of the traditional workplace model and experts believe the flexibility of remote working will be beneficial to both employees and businesses over the long term.

With the current work-from-home policies and the expectation this will continue into the foreseeable future, having a home office has become more important in real estate. Now more than ever, homebuyers are actively searching for homes set up with an office or one that can accommodate a new office. Whether you are planning on moving from your home or not, having a comfortable home office benefits you while adding value to your home. So, how does one create a home office that you will love?

Determine Your Spot
If you have the space, an extra bedroom, the basement, and a formal living room can be transformed into a spacious workspace. Lack this kind of extra space? Maybe a large corner, an airy alcove or loft, a closet or even untapped space under the stairs would work! A laundry room can pull double duty and be used as an office, too. Thinking creatively is key.
Prioritize Your Comfort
Think about your back, feet, neck and shoulders. Invest in an ergonomic back-friendly adjustable chair and to save wear and tear on your wrists an articulating keyboard tray. Place your monitor at least 20 inches away from your eyes or even farther if you have a large screen. Research desks and take your time in the decision making. Standing desks or an adjustable height desk may be the better fit for you than a traditional desk. The Coronavirus quarantine has boosted the online sales of office furniture, monitors, keyboards, laptops and other essential tech with many items now out of stock. You may have to use your skills of persistence and patience to find exactly what you want or get the tools out and make your own (see below for our Pinterest link to DIY ideas).
Stash Your Stuff
Built-in desks and bookcases and wall-mounted storage pieces help keep the clutter out of sight, tame the wires, and encourage organization. Filing cabinets are no longer just boring beige and gray. Now they come in a multitude of materials, sizes, and colors.
Keep It Private
Having a door you can shut or a wall divider sends the message that work is in progress. It also provides quiet space for phone calls and keeps sensitive information away from prying eyes. Installing French doors or a sliding barn door is a beautiful option for converting a formal living room or dining room into a home office.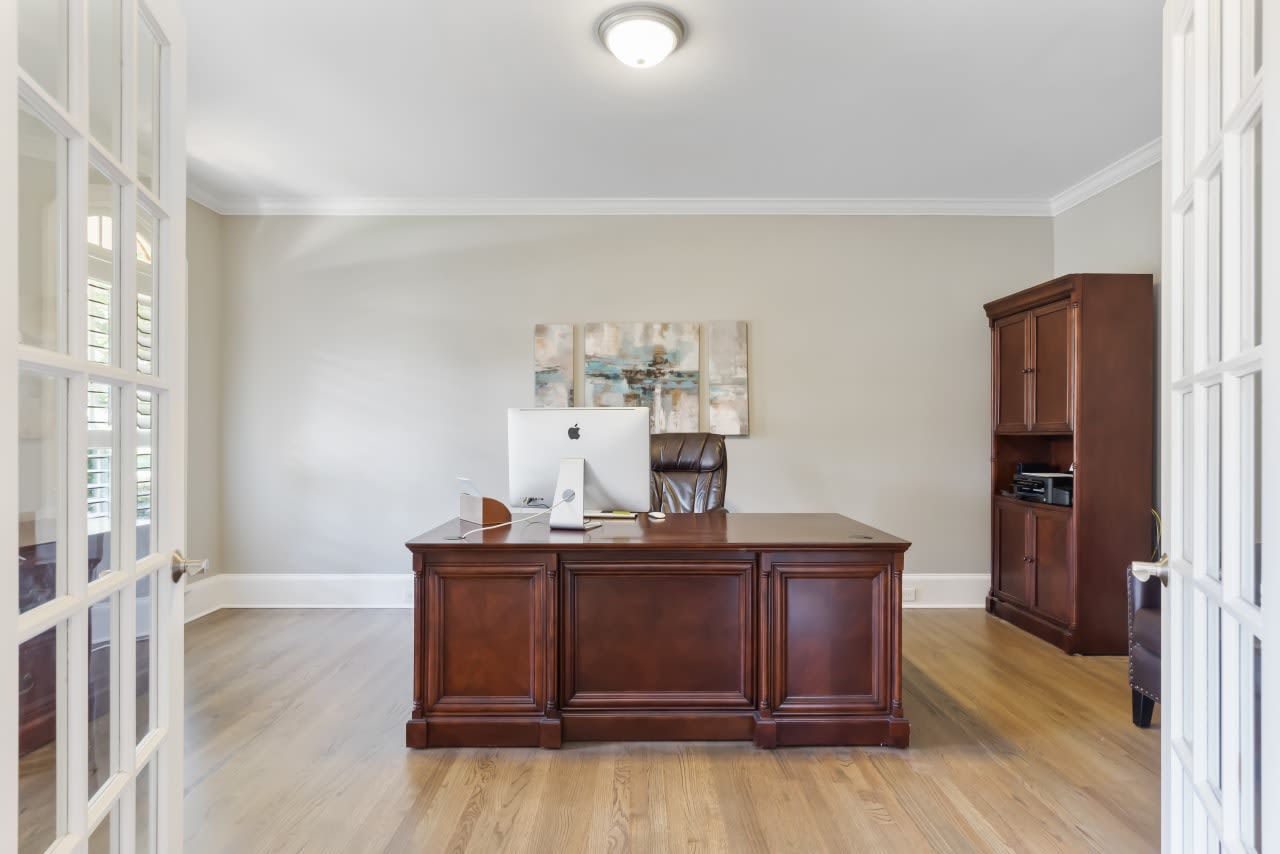 Set the Mood
Good task lighting that points light directly at your desk as well as natural lighting are essential. Consider neutral wall colors to keep the space relaxed and airy. A view of the outdoors like a garden or pool can be inspiring and calming during a hectic day. A sound system is a nice luxury for a home office. Evidence suggests that the right music (basically music you enjoy) at the right volume can make you more productive. It also helps you feel less lonely.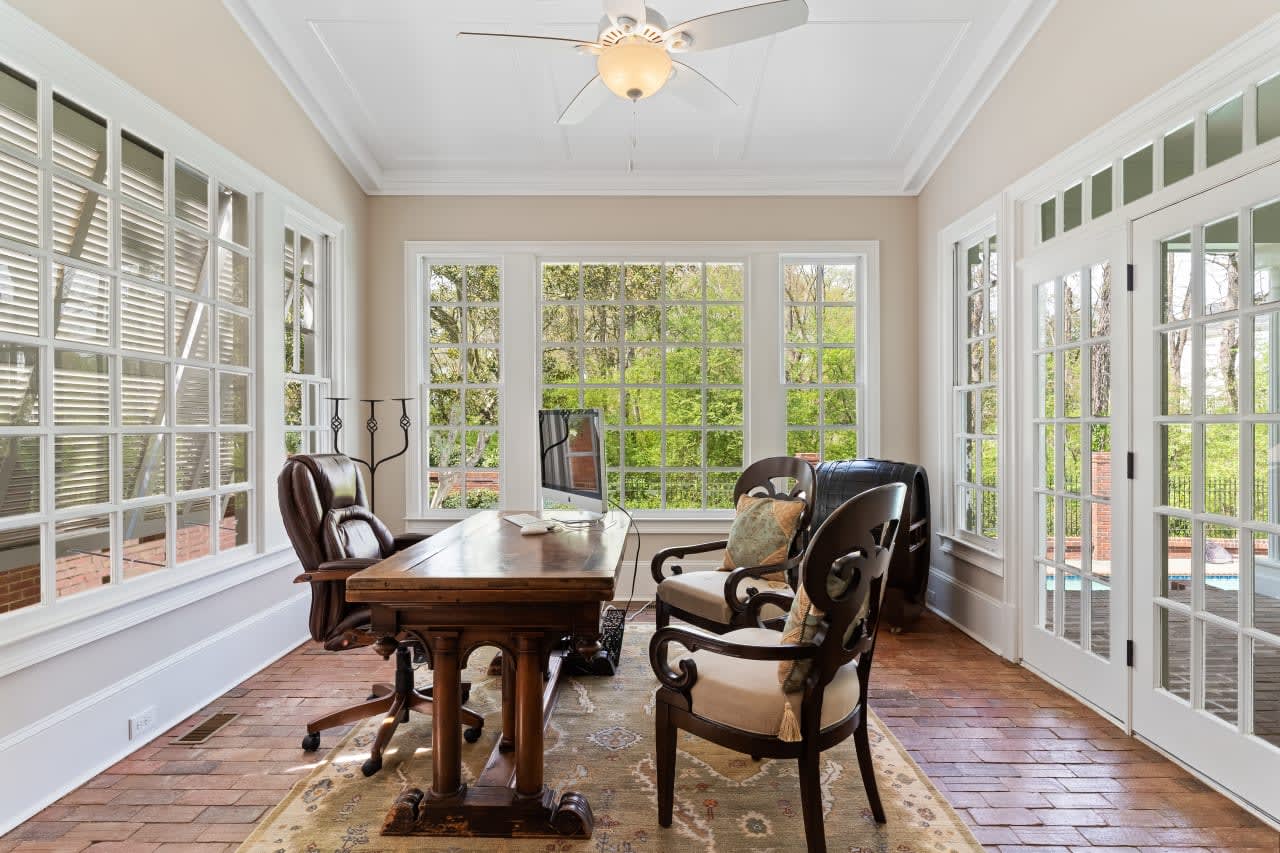 Find Your Inspiration
Houzz.com recently published the
"The 10 Most Popular Home Offices So Far in 2020."
This features the most-saved photos of home offices uploaded to their website since January 1, 2020. There's everything from a small office niche in a living room to a compact family command center in the kitchen. Also, take a look at our
Pinterest board
for home office inspiration and desk DIYs.
Working has changed, and companies are realizing their employees are just as productive working remotely as they are working in a traditional office. The interest in "specialty rooms" such as home offices, exercise and craft rooms, and homeschool rooms will continue to rise as American workers spend an unprecedented amount of time at home.
The team at
Sherry & Co. Real
Estate is here to help answer your questions, even about home offices! We know what homebuyers want and need, and we want you to make home improvements that not only appeal to these homebuyers but also add value and function to your home. Call or text us, 678.744.8206 and visit our
brand new website
to see our property listings, to use our home evaluation tool, to find out about our exciting Compass Concierge service and much more. Looking forward to hearing from you!